Introducing
Smart Finance
Fastest transaction times, consistent volumes and unique cryptocurrency pairs. Take advantage of a new era in smart contract technology. Deposit funds into our finance management pool and receive your allocated % of profits.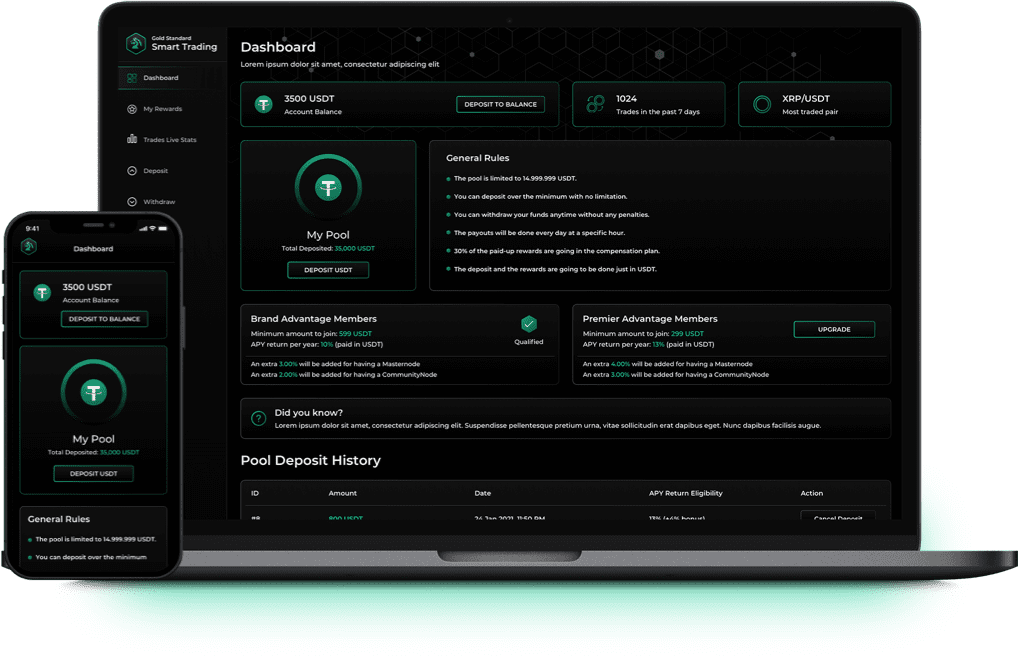 ---
WHAT IS GS SMART FINANCE
How it Works
Register, sync your account, complete your KYC, deposit cryptocurrency and start generating passive rewards. Join and benefit from our guaranteed pool profits.
3 SIMPLE STEPS
REGISTER & COMPLETE KYC
Join our smart banking platform within minutes by synchronizing your account with our partner platforms. Complete the required KYC documents and get ready for the next step.
DEPOSIT CRYPTOCURRENCY IN THE SMART FINANCE POOL
Smart finance pool is both a centralized and decentralized cryptocurrency management portfolio providing almost live statistics over the pool. The pool offers a transparent overview of the managed portfolio.
UPGRADE YOUR REWARD QUALIFICATIONS FOR HIGHER REWARDS
Based on the entire ecosystem, you can achieve higher reward percentages, take a close look into our reward qualification conditions and upgrade by using GSDeFi, G999 Masternodes, G999 Community Nodes & much more.
---
GET PASSIVE REWARDS
Latest Smart Finance Technology
Introducing the future of smart finance cryptocurrency pool management. The advantages of live crypto assets management with professional guidance and advanced transparency.
Market Volatility Advantages
Risk free management of your cryptocurrency assets under the pressure of a high market volatility.
High Volume
Under highly volatile markets can present great opportunities for uncreased trade volumes. We aim to grow our pools to maximize overall profits.
Smart Finance Automation
Integrated with DeFi and CEX we offer great transparency over the entire process of smart finance automation.
---
YOUR PATH TO FINANCIAL FREEDOM
Your aspirations in life are important and we'll help you get there. Whether you're buying your first home or saving for the future, Gold Standard Bank makes it easy. Put your goals first by being in control of your finances. We provide you with all the tools you need for investing and banking.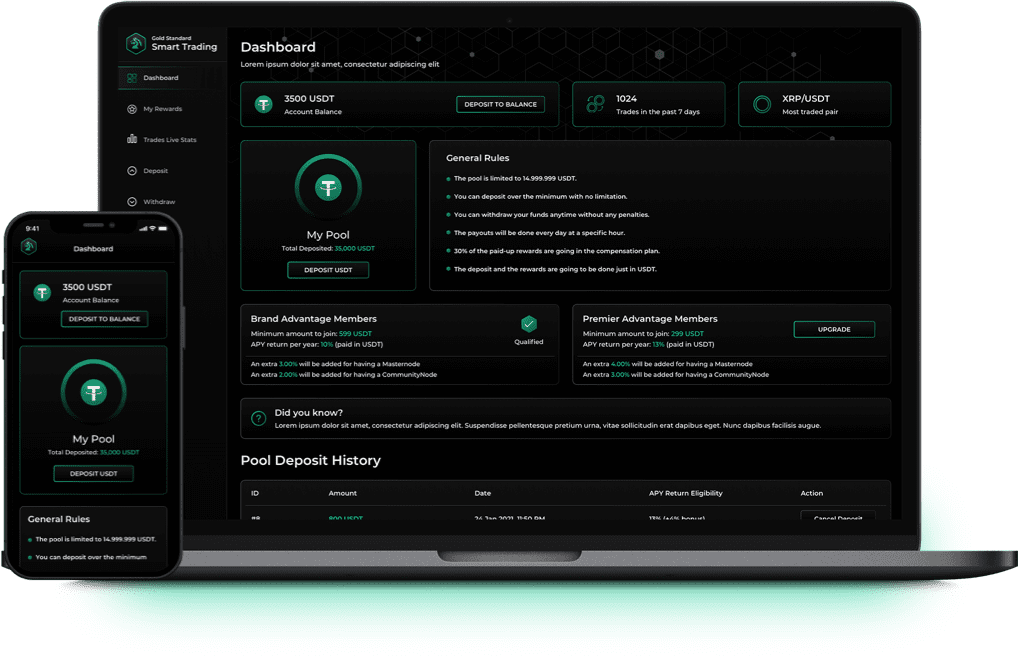 Didn't find your question here? Don't hesitate to send us a message!